Celebrating MYC's 35th International Composition Festival!

We are so proud and excited to be celebrating our 35 Annual Composition Festival! Such an amazing part of our curriculum! Over the past month we have received over 3300 compositions, songs composed by Music for Young Children students from the ages 3 to 10, from Canada, the U.S., Malaysia, and Singapore.
From March 8 to March 18, each composition is played and judged within their level in four different regions – Western Canada (BC, AB, SK, YK, NT, MB), Eastern Canada (ON, PQ, NS, NB, PEI, NF), United States & Asia (Singapore, Malaysia, and Vietnam). The first place pieces from the four regions then go head to head to place Internationally. The eight first place International winners each receive $250 (eight different age levels). You can watch the International Decisions on our Facebook Page. The Livestream will air on Friday March 18th, at 11am EST!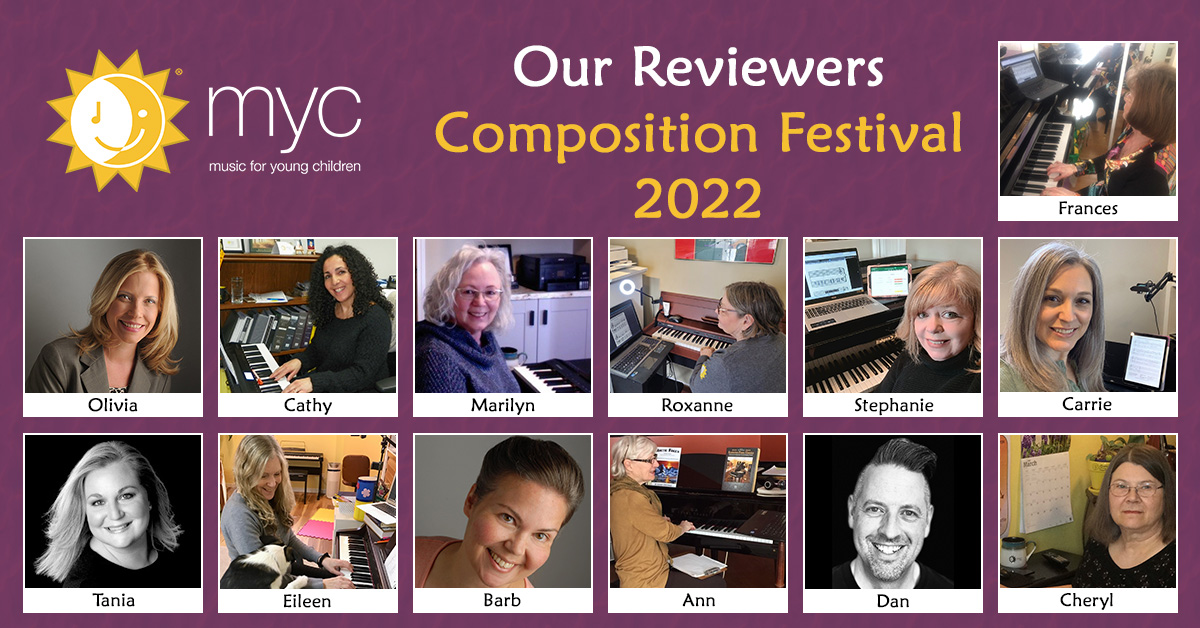 Thank you to this year's 13 reviewers, who were all experienced MYC Teachers. They are: Barbara Faubert, Carrie Bailey, Cheryl McDonald, Tania Granata, Roxanne McGahey, Eileen Leversedge, Stephanie Allen, Marilyn Unrau, Cathy Morabito, Dan Tremblay, Ann Babin (retired), Owner Olivia Riddell and Chairperson Frances Balodis.
All MYC students write their compositions out in full. Even 3 and 4 year olds can express their ideas using MYC's special Critter friends. Frances Balodis, Composition Chairperson and founder of Music for Young Children, says, "It is important when playing the compositions to remember how young these children are. I am pleased and amazed that they are writing down their musical thoughts. Seeing the hand script is overwhelming – big circles for notes and sticks for stems. They are doing their very best. It teaches them that their music can be shared far across the world…just because it is written down. Many life-lessons learned in this composing adventure."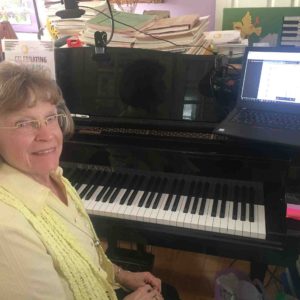 This year with the Composition Festival being online, we are fortunate have 4 Guest Reviewers from across Canada and the US.
Denise White (Alberta)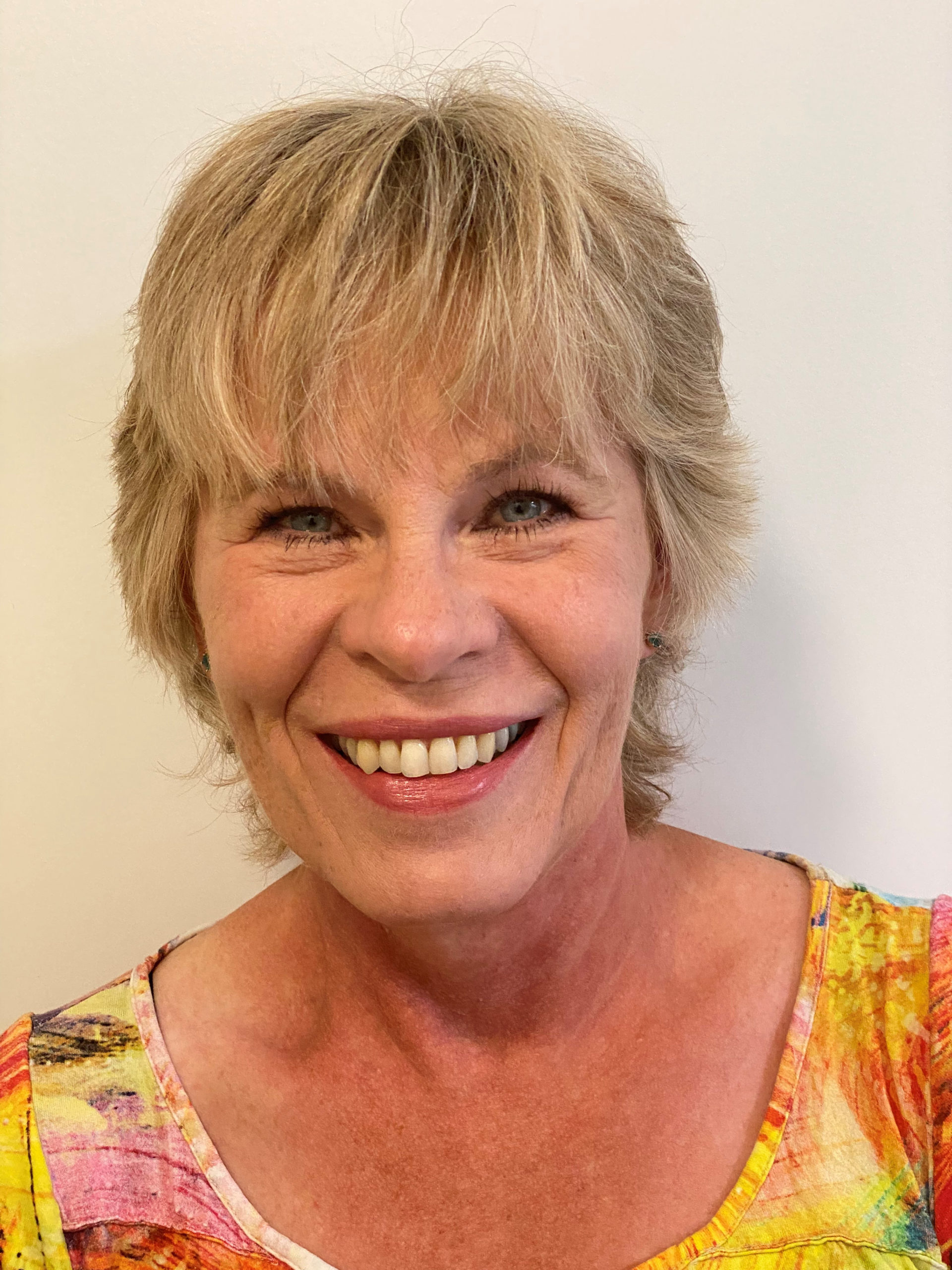 "I love music, and I love MYC. I have a Bachelor of Arts from U of S. I am MYC certified, and I am an active member of the Fort McMurray Music Teachers' Association. I have over 20 years of teaching experience, and I have been teaching MYC since 2004. I think this program is the best way for children to start learning to play the piano. It works, and it's fun!
It is so fun to watch the creative side of my students emerge as their compositions progress. MYC composition also helps my students with ear development, and overall confidence! MYC students learn so much more than just how to play the piano."
View Denise's Page: www.myc.com/members/DWhite/
Shelly Torossian (Michigan)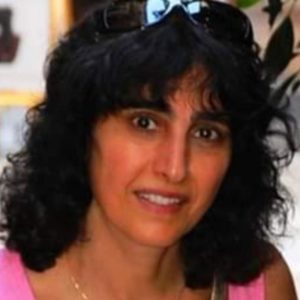 "When students compose music it allows them to not only be creative but also reinforces the musical concepts they've learned thus far. My students love it when we learn the different composing techniques and create simple and silly songs together. Composing is an integral yet unique part of the MYC program.
Teaching the Music for Young Children program allows me to enjoy two of my passions - music and working with children. I've been offering piano lessons in the Farmington Hills area for 20 years and I'm as enthusiastic about it today as I was when I first began teaching. I teach both group and private lessons for children and adults. I began to play piano at age 6 and studied through the Royal Conservatory of Music. I am a certified Music for Young Children teacher and I also have a degree in French Language and Literature from McGill University."
View Shelly's Page: www.myc.com/members/STorossian/
Shahien Hamza (Nova Scotia)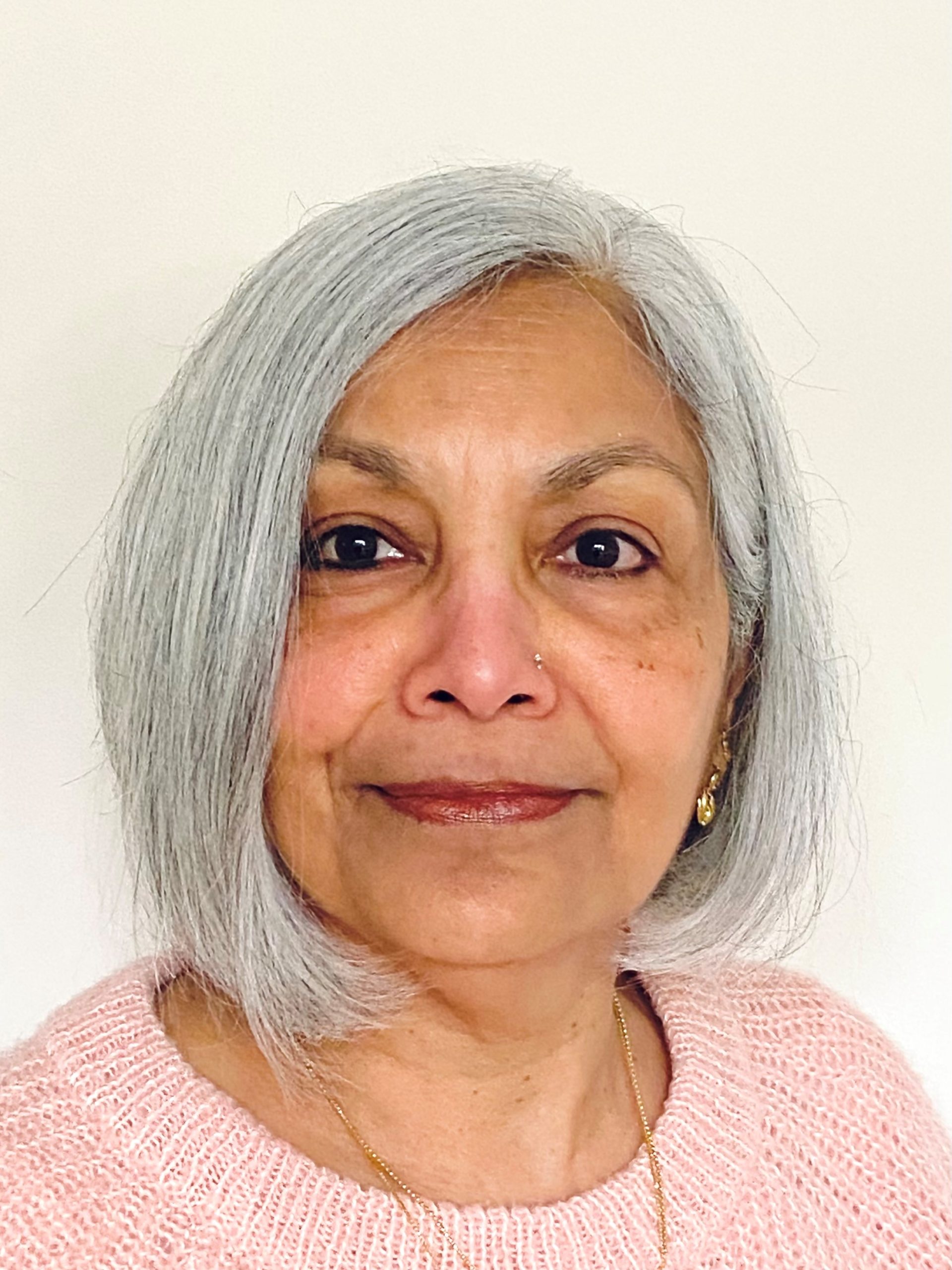 "It is my privilege to be able to inspire students to achieve a high level of learning and development through music. The universal language of music is a whole brain activity that is completely engaging and absolute fun. Each one of my students have different learning styles, strengths, capabilities and goals. Engaged in fun filled activities they are inspired to achieve their goals of understanding, creating, performing and appreciating music.
Teaching has always been my passion. I am a certified R.C.M.E teacher and taught for 40 years in three different countries across the world. My students are part of my musical family. It is extremely rewarding for me to witness their achievements through the years. Some of them are gold medalists, some have won prestigious awards in music and other fields, and yet others have done their best. Success breeds success.
Composing music is the true way of really expressing yourself through music. Music for Young Children teaches the art of composition from the very beginning. The concepts are taught through art and games. It is truly amazing what beautiful music they create at such an early age. Composition and performance makes music learning complete."
View Shahien's Page: www.myc.com/members/SHamza/
Heather Corbett Tuttle (Ontario)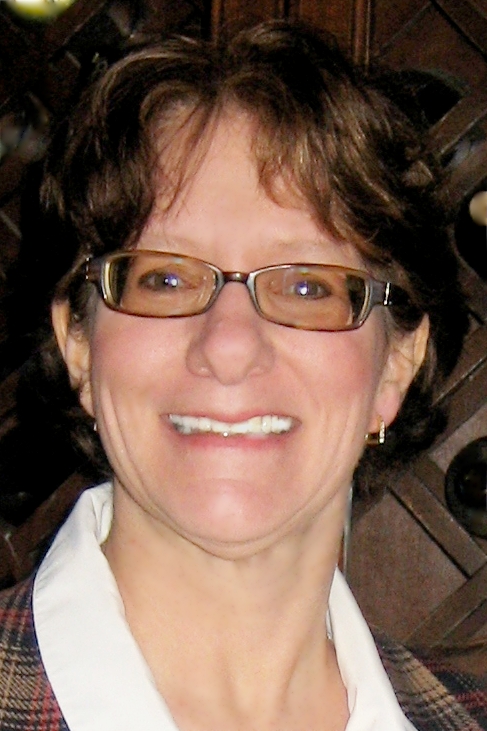 "My teaching career started 38 years ago with both private vocal and piano students. It was 31 years ago that I began teaching the Music For Young Children program and I have never looked back. My goal as a teacher is to never stop learning and to continue to pass on my creative enjoyment of music to my students both children and adults of all ages and abilities.
I am a graduate of the University of Manitoba, School of Music class of 1985. I have a Bachelor of Music degree with a major in voice and concentration in Music Education. Along with all my required vocal studies and pedagogy I continued with my piano practical studies, keyboard skills and pedagogy. I also studied music history, theory, analysis, orchestration and composition. I am MYCC and UMTC credentialed and a member of the Ontario Registered Music Teachers Association (ORMTA). For over 40 years I have studied with many distinguished teachers across Canada and the United States in vocal performance, piano, theory and composition. I continue to study where and when I can. I have toured both Canada and the United States.
In MYC, students learn skills and tools to create their own compositions. I believe it helps them learn critical thinking, patterns, how to play shapes and increases their knowledge, abilities and skill sets in music. Most importantly, students who compose are able to be creative and express their feelings and ideas. There are never wrong answers. Happy accidents can create something new and magical. Even the greatest child composer Mozart learned to compose through copy cat."
View Heather's Page: www.myc.com/members/HTuttle/
Roland Canada


roland.com
A special thank you to Roland Canada, who are our sponsor for this year's Composition Festival. We at MYC are proud to be affiliated with Roland and grateful for their sponsorship of many years, as they continue to demonstrate their dedication to music education.
Coba Studios & Print House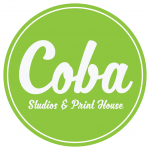 We would like to thank Coba Studios for sponsoring the printing of the composition stickers and the certificates the winners will receive.
Coba Studios is a local printer in Merrickville, ON. Run and managed by Joy Cox and Chris Chinkiwksy, Coba Studios aims to bring a high level of quality assistance and creativity to help you bring life to your projects. Whether it be print for flyers, graphics for your company or event, stock photography or a simple photo print.