Special offer for Music for Young Children® (MYC®) Teachers, Parents and Students
(Currently Available in Canada Only)

The preferred digital piano of Music for Young Children®.
Now 4 piano models to choose from direct from MYC®!
FREE SHIPPING* on all models direct to your door! (more information at the bottom of this page)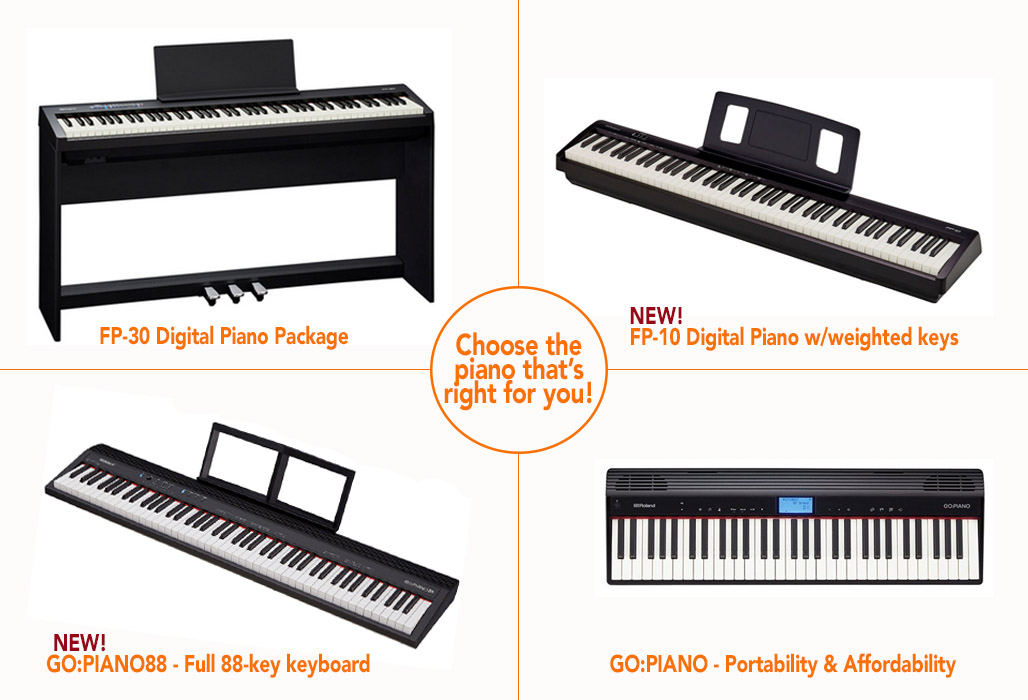 THE ROLAND FP-30 DIGITAL PIANO PACKAGE -
$1299.00 *
The affordable FP-30 offers Roland's acclaimed sound, feel, and modern features in a top-quality 88-note instrument that fits any space with ease. No other piano in its price range offers more features and the acclaimed Roland piano sound and touch. Built-in practice and recording functions, and Bluetooth® wireless support for working with popular music apps, the FP-30 delivers an unparalleled experience whether you are a student just starting your musical journey or a more accomplished player. The model available from MYC is the top model of the FP-30 series which includes:
The Roland FP-30 Digital Piano
Matching stand
Full 3-pedal pedalboard
Matching piano bench
The piano is available in 2 finishes - black and white. Both colour options are accompanied by a matching bench.
Click here for more information on the Roland FP-30
* Price does not include applicable taxes

---
FALL 2019 INTEREST FREE FINANCING OFFER
Until Dec 15, 2019, MYC Students and their families can take advantage of 12-Month interest free financing on the Roland FP-30 piano package.
Simply complete the secure online credit application and you could be welcoming your new instrument in your home in no time.
Note: Financing is subject to credit approval. Financing provided by Roland Canada Ltd. Offer valid for families of registered MYC students in Canada only.
---
THE NEW ROLAND FP-10 DIGITAL PIANO
$ 699.99*

(piano only) or

$986.97*

(with stand/bench)

This affordable digital piano offers an authentic feel from the 88-note weighted, PHA-4 Standard keyboard and Roland's acclaimed SuperNATURAL piano tones through onboard speakers or headphones. With its portable, space-saving design, the FP-10 is the ideal instrument for home use, whether you're practicing techniques in the spare room or giving performances in the living room. Plus, with Bluetooth® connectivity and powerful onboard features not offered by any other digital model at this price, the FP-10 is unprecedented value for your money.

CLICK BELOW TO WATCH THE VIDEOS OF MYC TEACHERS REVIEWING THE NEW ROLAND FP-10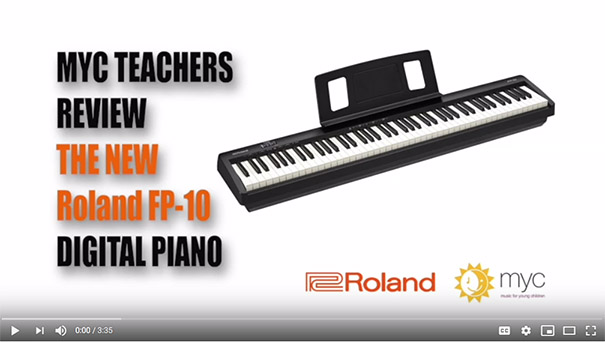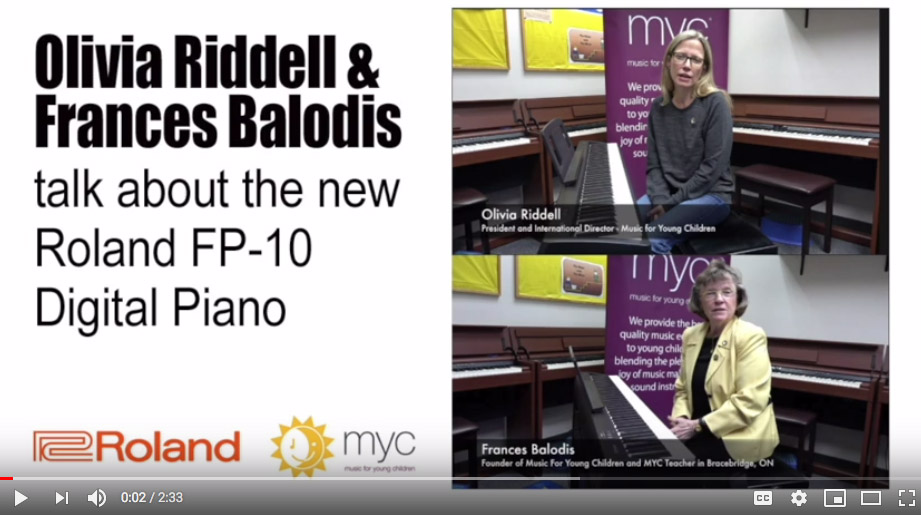 Click here for more information on the Roland FP-10
* Price does not include applicable taxes

THE NEW ROLAND GO:PIANO88 DIGITAL PIANO
$449.99 *

(piano only)

For students learning to play the piano, having 88 keys makes a big difference. Although smaller 61 or 76-note keyboards are portable and easy to handle for younger players, an 88-note full-size keyboard helps you develop the correct technique and become a more expressive player. Most keyboards make you choose between performance and portability, but Roland's GO:PIANO88 delivers equally on both fronts. Lightweight and road-ready, with optional battery power and headphones, this mobile instrument has a full-size 88-note keyboard and sounds derived from Roland's best digital pianos, so you can play with the correct technique and expression – vital for classical music or more complex pieces. GO:PIANO88 also features high-quality onboard Bluetooth® speakers that hook up to your smartphone allowing you to play along with your favorite music.
Click here for more information on the Roland GO:PIANO88
* Price does not include applicable taxes

ROLAND GO:PIANO -
$399.99* (

piano only)

When your child first begins music classes, you may find yourself trying to balance budget with quality when it comes to purchasing their instrument. With the Roland GO:PIANO, you can relax because you get both! The quality Roland has long been renowned for at a price that makes it easy to give your child a solid start in their musical journey. With 61 weighted keys and a natural sound derived from Roland's premium digital pianos, the GO:PIANO is the ideal choice at this price point.
Click here for more information on the Roland GO:PIANO
* Price does not include applicable taxes

FREE SHIPPING
Free regular ground shipping is available to most areas in Canada for all pianos ordered from this site. Some remote areas of Canada are not eligible for free shipping. If your order is not eligible for free shipping you will be notified of any additional costs prior to processing your order.
QUESTIONS?
Roland Canada is happy to answer any questions you may have on any of these pianos.  Send an email to [email protected] and a Roland representative will respond to your inquiry. Please do not contact MYC with questions pertaining to this piano.
IMPORTANT: Return Policy
Roland Canada offers a 30 day return policy from the date of shipment to you on all items ordered from this site. Return shipping costs and loss/damage insurance are the responsibility of the purchaser. Please contact Roland at [email protected] for a Return Authorization Number. All items returned must be like-new condition with all original packaging and accessories.
MYC® gives back!
We believe that giving back is important. MYC has made the commitment to allocate $100 from the sale of each FP-30 Piano Package sold through this program to the MYC scholarship programs. MYC offers scholarship programs for current MYC students, MYC graduates and MYC teachers. For more information on our scholarship programs please email us at [email protected]
*****************************************************************************************************
---