Special offer for Music for Young Children® (MYC®) Teachers, Parents and Students
(Currently Available in Canada Only)

The preferred digital piano of Music for Young Children®.
Note:  This online order form features increased security to protect your information and to ensure it is only used by valid MYC student families.
Please read our new
Authentication Section

at the bottom of this page for more information.
IMPORTANT NOTE:

Due to the world-wide COVID-19 pandemic, supply of all these pianos going into the Fall of 2020 is very limited and models may frequently sell-out.
Guaranteed delivery dates cannot be given at this time. If you wish your piano to arrive by early September, you must place your order as soon as possible. If your selected
piano sells-out or delivery is expected to exceed 30 days after you place your order, you will be contacted by Roland and no charges will appear on your credit card.
---
THE ROLAND RP-102 DIGITAL PIANO
NOTE: THIS ITEM IS CURRENTLY OUT OF STOCK. PLEASE CONTACT YOUR LOCAL ROLAND DEALER FOR AVAILABILITY.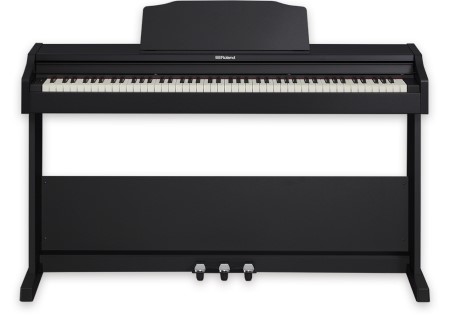 The Roland RP-102 is filled with technologies derived from our award-winning premium pianos—including a luxurious and supremely playable weighted-action keyboard—providing inspiring sound and touch that will continually support your music as your skills evolve. And with its streamlined cabinet and three integrated pedals, the RP102 offers a traditional upright look that fits nicely anywhere space is at a premium.
Click here for more information on the Roland RP-102
THE ROLAND FP-30 DIGITAL PIANO- THIS ITEM IS OUT OF STOCK. PLEASE CONTACT YOUR LOCAL ROLAND DEALER FOR AVAILABILITY.

The affordable FP-30 offers Roland's acclaimed sound, feel, and modern features in a top-quality 88-note instrument that fits any space with ease. No other piano in its price range offers more features and the acclaimed Roland piano sound and touch. Built-in practice and recording functions, and Bluetooth® wireless support for working with popular music apps, the FP-30 delivers an unparalleled experience whether you are a student just starting your musical journey or a more accomplished player.
Click here for more information on the Roland FP-30
Also available for the Roland FP-30...
Optional Matching stand - $159.99

Optional Full 3-pedal pedalboard - $159.99

Optional Matching piano bench - $159.99
---
THE NEW ROLAND FP-10 DIGITAL PIANO - THIS ITEMS IS OUT OF STOCK. PLEASE CONTACT YOUR LOCAL ROLAND DEALER FOR AVAILABILITY
This affordable digital piano offers an authentic feel from the 88-note weighted, PHA-4 Standard keyboard and Roland's acclaimed SuperNATURAL piano tones through onboard speakers or headphones. With its portable, space-saving design, the FP-10 is the ideal instrument for home use, whether you're practicing techniques in the spare room or giving performances in the living room. Plus, with Bluetooth® connectivity and powerful onboard features not offered by any other digital model at this price, the FP-10 is unprecedented value for your money.
Click here for more information on the Roland FP-10
Also available for the Roland FP-10...
Optional Matching stand - $159.99

Optional Matching piano bench - $159.99
CLICK BELOW TO WATCH THE VIDEOS OF MYC TEACHERS REVIEWING THE NEW ROLAND FP-10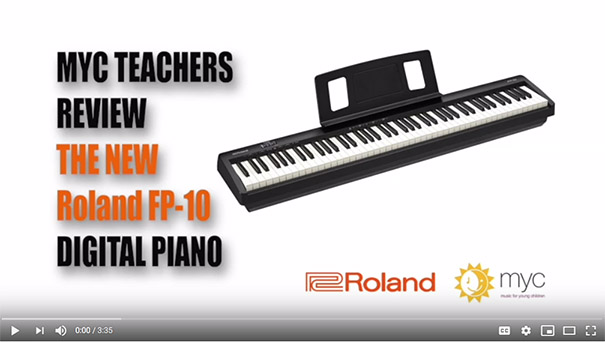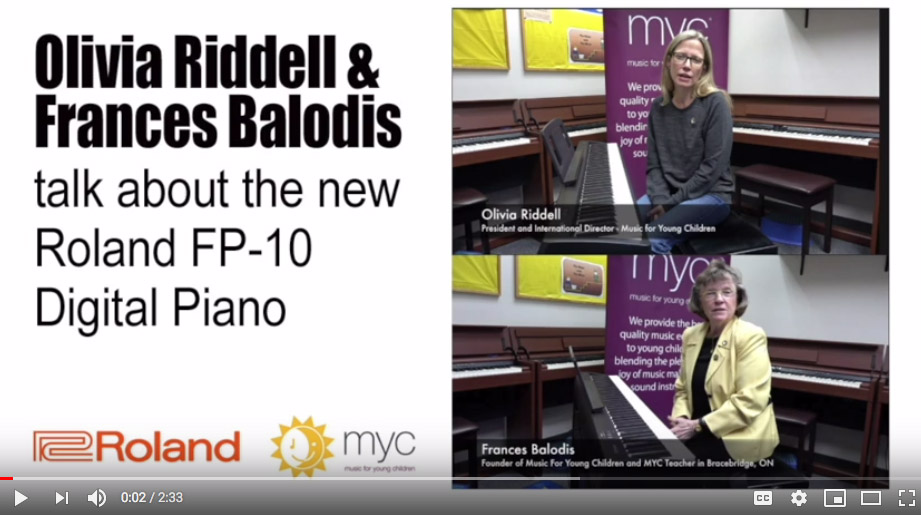 ---
---
ORDER AUTHENTICATION (NEW!)
Only families of active students in the MYC program in Canada are permitted to use this order form. In order to protect this form from unauthorized use, there is a three level authentication process. First, you must have a cell phone and valid number in Canada. You will be asked to validate your cell phone number and will receive a one-time code via SMS (text message) which will allow you to continue in the order form. Second, you must enter the STUDENT ACCESS CODE given to you by your MYC teacher. If you do not have this code, please contact your teacher as your MYC teacher is the only person authorized to give you this code. Finally, in addition to the STUDENT ACCESS CODE required to place your order, your MYC Teacher will be contacted by Roland to validate that you are one of his or her student families. Your order will not be shipped until this verification from your MYC teacher has been received. Please ensure you have all your MYC teacher's information such as full name, e-mail address and telephone number and that you enter this correctly where indicated on the form. Incorrect contact information for your MYC teacher will delay the processing of your order.
CREDIT CARDS
This form accepts VISA Mastercard and American Express only. All credit cards will be validated using fraud prevention features from MONERIS Canada. Foreign credit cards are NOT accepted.
FREE SHIPPING
Free regular ground shipping is available to most areas in Canada for all pianos ordered from this site. Some remote areas of Canada are not eligible for free shipping. If your order is not eligible for free shipping you will be notified of any additional costs prior to processing your order.
DELIVERY TIMES AND BACK-ORDERS
All orders are shipped from Roland's National Distribution Centre in Mississauga, ON. Shipping times vary depending on your location but most orders shipped will be received within 5 business days anywhere in the country. We are unable to provide exact delivery dates or times and someone must be there and show government id in order to accept the shipment. If no-one is there at the time of delivery, the shipment will be held by the courier and a note will be left asking you to contact them to arrange delivery on another day. Delivery dates are Mon-Fri  9AM - 5PM. Unfortunately weekend and evening deliveries are not available.
Occasionally we are out of stock on some or all of the items on your order. If we are only missing some items on your order, the entire order will be back-ordered until the missing items are received in our Distribution Centre. Your credit card will NOT be charged until the items ship. If we anticipate a back-order period of more than 8 business days we will contact you and you will have the option to either wait, ship the items that are available, change your order or cancel your order.
QUESTIONS?
Roland Canada is happy to answer any questions you may have on any of these pianos.  Send an email to [email protected] and a Roland representative will respond to your inquiry. Please do not contact MYC with questions regarding any of these pianos or this order form.
IMPORTANT: Return Policy
Roland Canada offers a 30 day return policy from the date of shipment to you on all items ordered from this site. Return shipping costs and loss/damage insurance are the responsibility of the purchaser. Please contact Roland at [email protected] for a Return Authorization Number. All items returned must be like-new condition with all original packaging and accessories.
MYC® gives back!
We believe that giving back is important. MYC has made the commitment to allocate a portion of the proceeds from the sale of each FP-30 Piano Package sold through this program to the MYC scholarship programs. MYC offers scholarship programs for current MYC students, MYC graduates and MYC teachers. For more information on our scholarship programs please email us at [email protected]
*****************************************************************************************************
---