33rd Annual International Composition Festival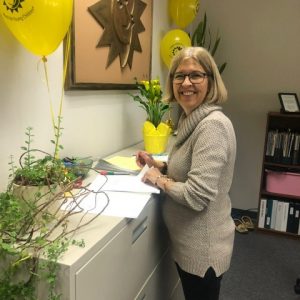 From January to March, 2020, compositions were submitted by over 5,500 Music for Young Children students for the 33rd Annual International Composition Festival. MYC students from Canada, the U.S., Malaysia, Singapore, South Korea and Vietnam took part.
During the week of March 9-13, each composition was played and judged within their level in four different regions – Western Canada (BC, AB, SK, YK, NT, MB), Eastern Canada (ON, PQ, NS, NB, PEI, NF), United States & Asia (South Korea, Singapore, Malaysia, and Vietnam). The first place pieces from the four regions go head to head to place Internationally. The eight first place (eight different age levels) International winners each receive $250.
Keep reading to and listen to see the full list of winners at the bottom of this article!
Depending on the age and level of each student, they write their composition out in full. Even 3 and 4 year olds can express their ideas using MYC's special Critter friends. Frances Balodis, Composition Chairperson and founder of Music for Young Children, says "The compositions don't have to be long – some of the 4 measure compositions (for younger MYC levels) were ideal. The compositions do not have to have words – we are really interested in the actual compositions."
Thank you to this year's 12 reviewers, who were all experienced MYC Teachers. They are: Tania Granata, Roxanne McGahey, Eileen Leversedge, Dianne Smith, Carrie Bailey, Barbara Faubert, Cheryl McDonald, Melody Louie, Loralee Bishop and Chairperson Frances Balodis. Special thanks to our guest reviewer, MYC's Coordinator for Atlantic Canada, Doris Sabean, from Moncton NB.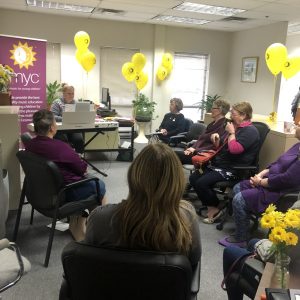 In order to be considered a finalist, a composition is played and heard by a minimum of 3 reviewers. Then as Mrs. Balodis explains to students, "The Regional Decisions are made by 3 reviewers together. It is important to have 3 opinions and comments. If your composition made it to 1st, 2nd, 3rd or 4th place in Regional Decisions you should know those decisions were difficult to make. Several compositions are also recognized as Honourable Mentions too - and you should feel happy and proud!"
Children take a lot of care and put serious effort in writing and titling their songs. The topics and themes range from favourite things like Unicorns, Beyblades, Puppies and Bike Riding, to relationships; Mommy, Daddy, Grandparents, Siblings, and a tribute to a special uncle, to events; like Snow Days, Birthdays, and lots of nature; Summer, Spring, Winter, Owls, Caterpillars, Flowers and even Jelly Fish.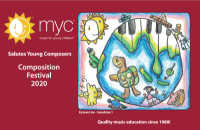 Every student who submits a composition, regardless of whether they place or not, receives a special Composition Festival sticker to recognize their achievement. The printing of the Composition Festival sticker is proudly sponsored by Trico Package and Print Solutions.
A special thank you to Roland Canada, who not only sponsors our Composition Festival, but also provided 2 Roland FP-30 digital pianos for reviews to play. We at MYC are proud to be affiliated with Roland and grateful for their sponsorship of many years, as they continue to demonstrate their dedication to music education.
Music for Young Children is taught to 24,000 students annually across Canada, the United States, South Korea, Vietnam, Singapore and Malaysia. This year we are celebrating our 40th year in business! For more information phone 1-800-561-1MYC (1692) or visit www.myc.com.
Here are the Winners of the 2020 International Composition Festival
(Click the title to see the sheet music, and click ♪ listen ♪ to hear the song!)
Sunshine 1
Sunshine 2
Sunbeams 1
Sunbeams 2
Sunbeams 3
4th - Wings by Lakshman Padmanabhan ♪ Listen ♪
Moonbeams 1
Moonbeams 2
Moonbeams 3
Congratulations to Students, Parents and Teachers on another year of composing!