MYC Students' Achievements Recognized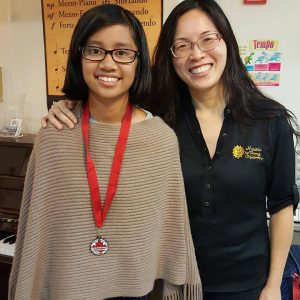 Each Fall, the Royal Conservatory of Music and Conservatory Canada award students with certificates and medals of excellence. Again this year, MYC students were well represented among the recipients.
Interested in becoming a teacher? Find out more about our award winning program
Ready to start your child on the path to excellence? Find a Teacher near you!
See the list below!
CONSERVATORY CANADA DIPLOMA AND AWARD RECIPIENTS, 2018
ENDOWED SCHOLARSHIPS
Ann Dicker Scholarship (Piano): Catherine Lyons, Parry Sound, ON – Judy Freeman 
Denis and Patricia Frehlich Scholarship (CI): Natalie Wong, East York, ON – Tania Maalouf
Eric S. Lewis Memorial Scholarship: Stephen Babin, Niagara Falls, ON – Alessandra DiCienzo
CLASSICAL MEDALS FOR EXCELLENCE, PIANO
PRE-GRADE 1
Lauren Ramsay, Summerside, PEI – Nancy Rogerson
GRADE 1
Cassidy Vieira, Winnipeg, MB – Gina Wedel
Noah Addie, Cow Bay, NS – Courtney Clark-Denty
Isabella Woo, Toronto, ON – Natalia Ryjanovskaia
Olivia Kostyk, Saskatoon, SK – Della Roy
GRADE 2
Renee Wilson, Lethbridge, AB – Maureen Furtado
Reece Wong, Stony Mountain, MB – Kristen Schulz
Jenna Zwicker, Dartmouth, NS – Courtney Clark-Denty
Rory MacMillan, Moose Jaw, SK – Cora Melanson
GRADE 3
Neela Subramaniam, Winnipeg, MB – Gina Wedel
GRADE 5
Kayla Smith, Dartmouth, NS – Kathy Andrew
GRADE 8
Adam Fehr, Parkland County, AB – Heather Fehr
WRITTEN MEDALS FOR EXCELLENCE, THEORY
THEORY 1
Marina Heisel, Port Moody, BC – Charlene Dubrule
Kayla Smith, Dartmouth, NS – Kathy Andrew
Emily Cousins, Kensington, PEI – Nancy Rogerson
THEORY 2
Marina Heisel, Port Moody, BC – Charlene Dubrule
Kendra Gossen, Winnipeg, MB – Rebecca Thiessen
Anthony Bevilacqua, Niagara-on-the-Lake, ON – Alessandra DiCienzo
Nicole Litwin, Highgate, ON – Beth Gladstone
Arielle Longo, Niagara Falls, ON – Alessandra DiCienzo
Lucas Pietrangelo, Niagara Falls, ON – Alessandra DiCienzo
Lindsay Stewart, Summerside, PEI – Nancy Rogerson
THEORY 3
Sarah Faith Nicole Yi Hui Shing, Winnipeg, MB – Roxanne McGahey
Kelly Song, Stittsville, ON – Cheryl Wallace
Tori DesRoche, Summerside, PEI – Nancy Rogerson
THEORY 4
Adam Fehr, Parkland County, AB – Heather Fehr
Ella Rempel, Winnipeg, MB – Gina Wedel
Courtney Clark, Eastern Passage, NS – Peggy Harrison
Joshua Willick, London, ON – Roxanne McGahey
THEORY 6       
Julian Guidote, Montreal, QC – Arpi Meguerditchian
CONTEMPORARY IDIOMS MEDALS FOR EXCELLENCE, PIANO
LEVEL 1
Natalie Wong, East York, ON – Tania Maalouf
Clarity Smith, Summerside, PEI – Nancy Rogerson
LEVEL 2
Jake Jeong, Castlegar, BC – Tammy Francis
Gabrielle Cooper, Winnipeg, MB – Rebecca Thiessen
Olyvia Burdick, Peterborough, ON – Erica Hernandez
Ian Sharpe, Summerside, PEI – Nancy Rogerson
LEVEL 3
Gabriel Podoxin, Coquitlam, BC – Charlene Dubrule
LEVEL 4
Danica Gritchin, Castlegar, BC – Tammy Francis
Zachary Rasmussen, Kanata, ON – Dan Tremblay                                                                                                             
LEVEL 6
Marina Heisel, Port Moody, BC – Charlene Dubrule
Lindsay Stewart, Summerside, PEI – Nancy Rogerson
LEVEL 7
Maxx Podovinikoff, Grand Forks, BC – Tammy Francis
LEVEL 8
Stephen Babin, Niagara Falls, ON – Alessandra DiCienzo
LEVEL 10
Evelyn Davenport, Thunder Bay, ON – Kathy Schmidt
Royal Conservatory of Music Medals of Excellence winners*
Teacher Shelley Torossian, Farmington Hills, MI, also shared her students' achievements with Royal Conservatoy of Music exams*
Elise Mavrinac
Center Certificate of Excellence, Level 2 Piano
Janelle Snowden
State Certificate of Excellence, Level 1 Piano
Center Certificate of Excellence, Level 1 Piano
Saajan Mahadevan
Center Certificate of Excellence, Level 1 Piano
Saysha Mahadevan
Center Certificate of Excellence, Level 5 Piano
Tatiana Johnson
Center Certificate of Excellence, Level 3 Piano
*(RCM does not publish recipient's names. In this case, the teacher has shared the news with us)