From MYC to Carnegie Hall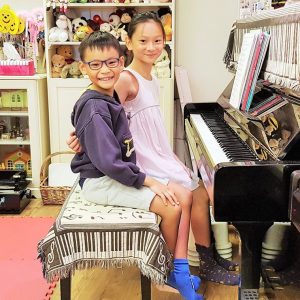 Singapore - June 13, 2019
MYC graduates 9-yr-old Sheryl Tan, and 8-yr-old Caleb Lim have recently been declared winners in the American Protégé Music Talent Competition, winning 1st and 2nd place respectively! As a result they will give their debut performance at Carnegie Hall in New York City this December at the Winner's Recital. You can see the results of the competition here.
Under the tutelage of Teacher Angela Ang of MYC Newton (Singapore), both Sheryl and Caleb graduated from Moonbeams 3 last year and are currently enrolled in an Intermediate Piano Program. We asked them about the process leading up to the competition and their thoughts about performing at Carnegie Hall:
Caleb: "You've [got] to practice DAILY! Remove all distractions when you're practicing. Don't look at your hand phone and don't run off to play with your toys!
Set achievable goals to motivate yourself, for example, by today, get the first page done. Next day, make sure to include the dynamics and performance directions.
Ask your parents to video your performance so that you can listen to it, pick up any mistakes and correct them!
Oh! I was very happy when mom told me the results! We were both shocked! I'm excited about going to play at Carnegie Hall. I'll take part in more piano competitions to see if I've made any progress."
Sheryl: "Practice EVERY DAY and don't give up! Correct the mistakes drawn by your teacher. Ask mum to take a video when you're playing the piece so you can see if you've made any improvements.
Also learn to spot your own mistakes. If you need help with certain passages, ask for help.
I'm curious about how Carnegie Hall looks. I'm also a bit scared of memory slips but I'm glad my parents are traveling with me and will be in the audience watching me. I think they'll be happy and will be very proud of me!
I want to take part in more piano competitions. It motivates me to work harder so I can win more prizes! I also hope my music will bring joy to everyone!"
MYC Singapore opened in 2007 with Angela being one of the first trained teacher by founder, Frances Balodis, and International Director, Olivia Riddell. MYC Singapore now has 11 MYC studios island wide providing the MYC program.
From all of us at MYC International Head Office: Congratulations and we are excited to watch your musical career take you to great heights!
Congratulations! 🥰